Richard Danielpour ZOOM Event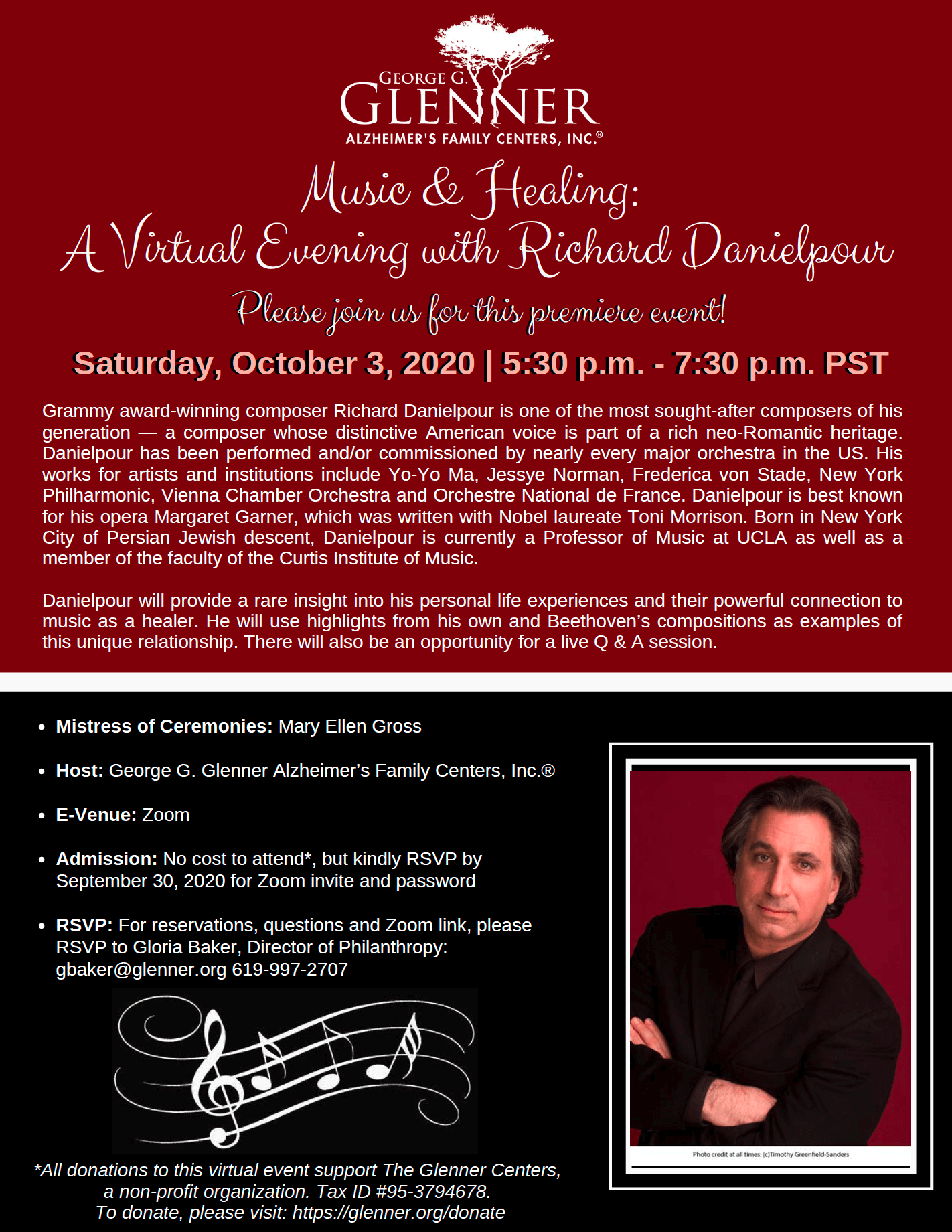 Would you like to become an individual event sponsor? Below are our available individual sponsorship levels.
Gold ($500)
Silver ($250)
Bronze ($100)
Corporate sponsorships are also available.
To become a sponsor, to RSVP and to obtain event Zoom link, please contact Gloria Baker, Director of Philanthropy, at gbaker@glenner.org or 619-997-2707.
---
Individual (Gold Level)
Dr. Ted and Mary Ellen Gross
In Honor of Richard Danielpour
Joy Glenner
In Honor of the Families We Serve
The Cassiano Family
In Honor of our Amazing Dad, Bill Foley
Individual (Silver Level)
Doug and Cindy Callant
Dedicated to the Heart of Every Glenner Caregiver
Grace Kojima
Individual (Bronze Level)
Dr. Leo and Ann Lagasse
In Honor of Medicine for Humanity
Ed Long
In Memory of Chili
Claire and Dick Savitt
In Honor of the Wallace and Gross Families
Samantha Wallace
In Honor of Mary Ellen Gross
Who is Richard Danielpour?
Award winning composer Richard Danielpour has established himself as one of the most gifted and sought-after composers of his generation. His music has attracted an international and illustrious array of champions, and, as a devoted mentor and educator, he has also had a significant impact on the younger generation of composers.
His list of commissions include some of the most celebrated artists of our day including Yo-Yo Ma, Jessye Norman, Dawn Upshaw, Emanuel Ax, Gil Shaham, Frederica von Stade, Thomas Hampson, Gary Graffman, Anthony McGill, the Kalichstein-Laredo-Robinson Trio, the Guarneri and Emerson String Quartets, the New York City and Pacific Northwest Ballets, and institutions such as the New York Philharmonic, Philadelphia Orchestra, Maryinsky, and Vienna Chamber Orchestras, Orchestre National de France, Chamber Music Society of Lincoln Center, Santa Fe Chamber Music Festival, and many more.
With Nobel Laureate Toni Morrison, Danielpour created Margaret Garner, his first opera, which premiered in 2005 and had a second production with New York City Opera. He has received the American Academy of Arts & Letters Charles Ives Fellowship, a Guggenheim Award, Bearns Prize from Columbia University, and fellowships and residencies from the MacDowell Colony, Yaddo, Copland House, and the American Academies in Berlin and Rome. He served on the composition faculty of Manhattan School of Music from 1993 to 2017.
Danielpour recently relocated to Los Angeles where he has accepted the position of Professor of Music at the Herb Alpert School of Music at UCLA. He is also a member of the faculty of the Curtis Institute of Music where he has taught since 1997.
Danielpour is one of the most frequently recorded composers of his generation. Many of his recordings can be found on the Naxos and Sony Classical labels. Danielpour's music is published by Lean Kat Music and Associated Music Publishers. For more information about Richard Danielpour, please visit his website at: www.Richard-Danielpour.com.
Click the link below to watch the mini documentary, "The Passion of Yashura" on Richard Danielpour.
The Passion of Yeshua
Why are we doing this event?
The mission of the Glenner Centers is to provide affordable and accessible services to families affected by Alzheimer's and related dementias. It is our life's work to care for individuals with the disease and provide much-needed support to their family caregivers.
Our goal with this event is to share how music can be healing to the soul in an effort to help family caregivers far and wide. Richard has graciously agreed to spend this time with us to share how music has acted as an agent of healing for past composers and for him personally.